---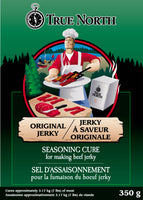 True North seasonings makes it simple to prepare the best tasting smoked fish, poultry, wild game and more. 
Easy and convenient. Simply sprinkle on, refrigerate overnight, lightly rinse and smoke the next day. The result? Great tasting jerky or smoked fish for a fraction of what you would pay at the supermarket.

Available in six delicious varieties.